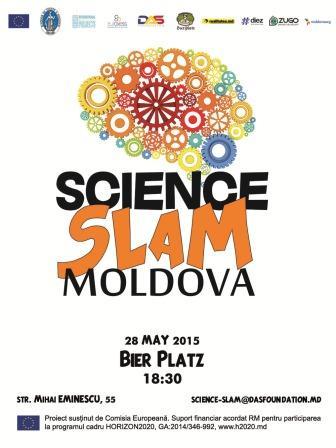 On 28th of May 2015 was organized the second edition of "SCIENCE SLAM MOLDOVA" – an event that gathers science/innovation and creativity. The event was organized by the Academy of Sciences of Moldova in cooperation with Center of International Projects, H2020 National Contact Points Network and DAS Foundation.
The aim of Science Slam was to promote science and innovation in Republic of Moldova. Science Slam offered a promotion platform for Moldovan innovators and researchers, but also a unique opportunity to receive feedback from colleagues and the general public on the results of their theories and work. The mission of Science Slam is to increase the level of public interest regarding research and innovation, ensuring this way a sustainable development of our society.
Four Moldovan researchers presented to the public the results of their research in a funny and original way. Slammers came from different research areas and addressed the following topics:
Artiom JUCOV, dr. in medicine – "Una sole de migrare"
Natalia USURELU, dr. conf. – "Increase of Moldovan innovation potential in Human Genetics"
Dorian FURTUNA, dr. – "Our everyday agresivity...and how can we handle it"
Sorin GURAGATA – "What is the information"
The winner was designated by the public, most of the applause receiving the presentation of dr. Dorian FURTUNA. According to him, "Science Slam offered us the possibility to speak about our own scientific research to a wide public, in a funny manner and in a competitive environment. I presented my results and ideas and also accumulated more oratorical experience. I consider that we need more similar events in Moldova to promote science. Organizers of Science Slam are great in promoting such initiatives".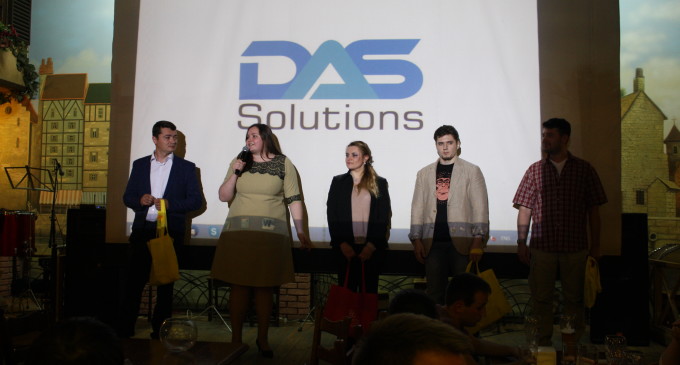 Partners of the second edition of "SCIENCE SLAM MOLDOVA" were IDSI, EURAXESS Moldova, Bier Platz, Realitatea.md, Diez.md, Moldova.org  and ZUGO.
The event was organized in the framework of a project supported by European Commission within HORIZON 2020, GA: 2014/346-992, www.h2020.md.