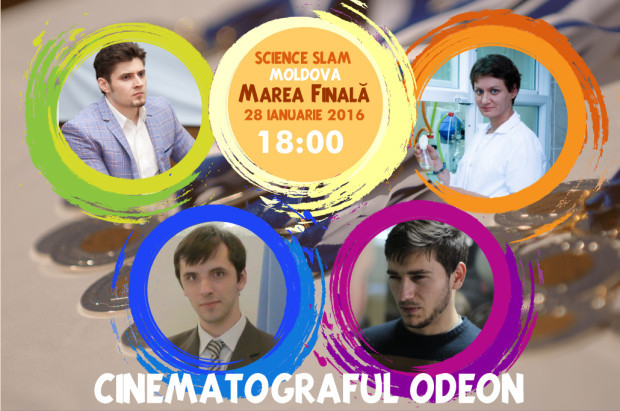 On 28th January at the Odeon cinema was carried out Grand Final Science Slam Moldova, where winner scientific researchers of previous editions came to the final scientific competition to share their unique experience and research, to conquer the audience in the most original way.
Competitors and their favorites were greeted traditional by President of Academy of sciences acad. Gheorghe Duca. "Those who today came to present projects, to start right here your career in research, to become great researchers, great leaders of research institutions and you have to know that only through knowledge we can win," said ASM President encouraging and wishing success foolhardy.
So, intellectual and funny battle was fought between the four winners of the earlier semifinals - dr. Iulia Iatco, dr. Dorian Furtuna, researcher Alexandru Iscenco and master student Alexandr Gheţan.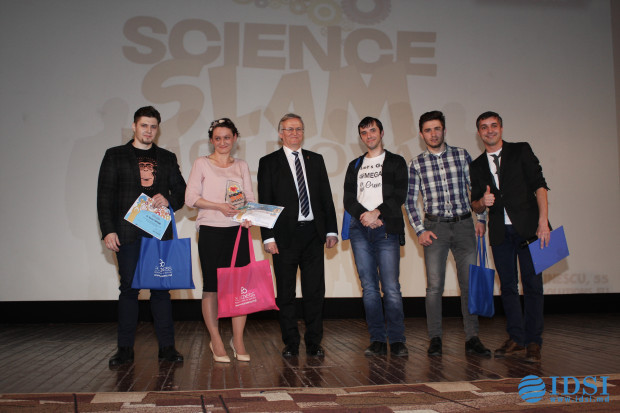 The audience learned from ethologist Dorian Furtuna, doctor in biology and author of "Homo aggressivus: Why not stop wars and violence" book, why Moldovans are aggressive, what is causing the formation of aggressive behavior and how it can be kept under control this problem. Alexandr Iscenco, also writer, explained how we will change the future with robotics and 3D printing. Alexander Ghetan studied history which impact had contagious diseases on Interwar Bassarabia.  Iulia Iatco presented to public about the miracle of algae and explain the operating mechanisms of these micro-factories.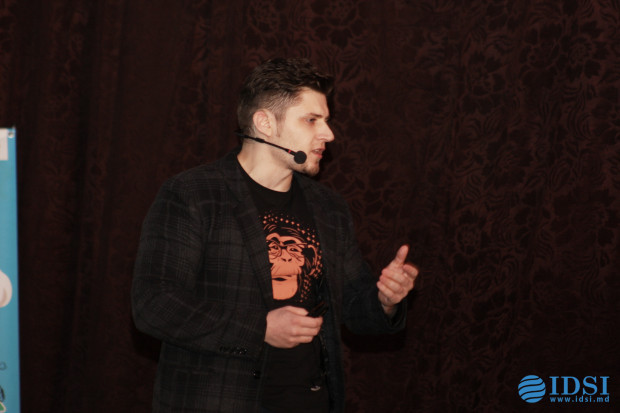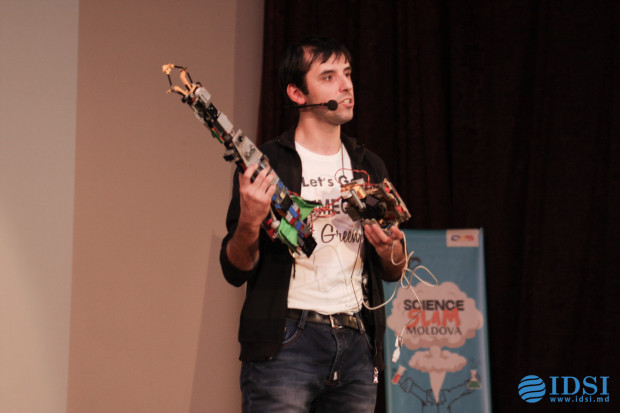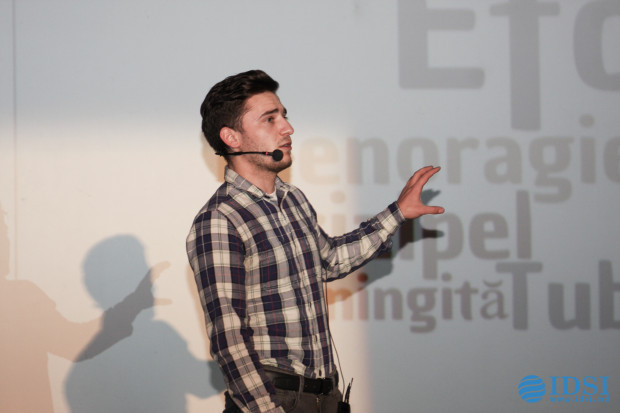 It was not easy to choose the winner because the finalists were one better than another. But the strongest applause battle was given between Dorian Furtuna and Iulia Iatco. However, the grand finale of Science Slam Moldova in 2015 was won by Iulia Iatco, doctor in biology, scientific researcher at the Institute of Microbiology and Biotechnology of the ASM. Iulia wows audiences by explaining the funny miracles how she can do "girl" and "boy" (algae) of tubes in the competition.
Trophy "The best slammer 2015" was handed to the winner by the first vice-president of ASM, acad. Ion Tighineanu. The academician noted that all four participants were excellent in the final. Without deviating from the original format of the competition, academician specified humor that Dorian with "homo aggressivus", Alexander with "homoroboticus" and Alexander "eforticus combaticus with impactus" and "Iulicicaus microbiofabricus with vitaminus and nanotahnologicus " were bravo.
Iulia mentioned: "I never expected that I will win, all slammers who participated were very prepared, but I am very happy that I won today. I thought that for people was something new, informative, interesting and very funny".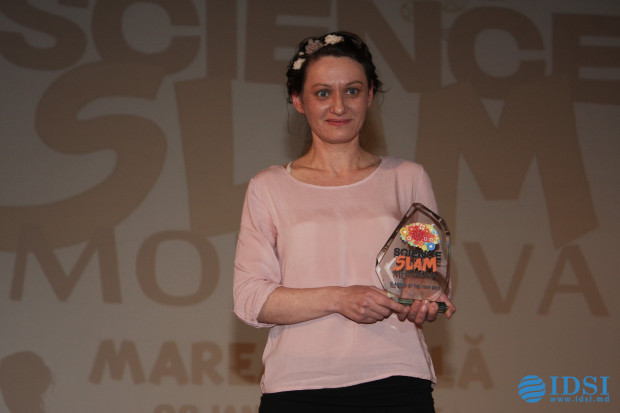 Besides the trophy, for Iulia was given the opportunity to participate in a scientific experience abroad.
"We are convincing at every edition of Science Slam Moldova that researchers have  means to contribute to the development of our country. We just need to harness their potential." said Project Coordinator Elena Zamsa.
Science SLAMs are organized by the Academy of Sciences of Moldova in partnership with the Center for International Projects, Network of National Contact Points Horizont 2020 Euraxess and DAS Solutions.
Event organized in the framework of a project supported by European Commission within HORIZON 2020, GA:2014/346-992, www.h2020.md.