Great news : the revamped EURAXESS portal is live now!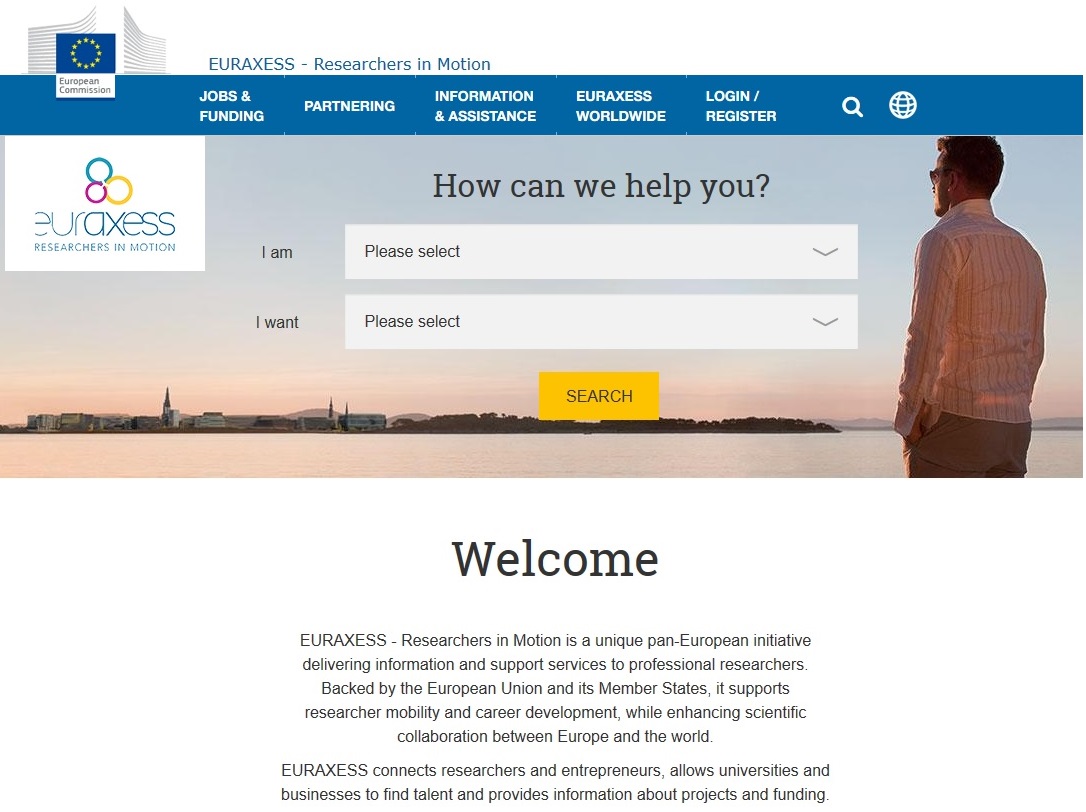 Dear all,
We are delighted to announce the launch of the revamped EURAXESS portal.
You are probably already wondering what does the new EURAXESS portal have to offer, right? Well, here are a few of the exciting new & improved features:
Responsive Design: the revamped EURAXESS portal has been designed to adapt to any type of device: mobile, laptop, desktop;
Broader Target Group: besides the researchers and research institutions/universities, EURAXESS is now also addressing entrepreneurs and businesses;
Profiled Info: the revamped EURAXESS portal proposes registered users with matching collaboration, job and hosting opportunities;
Improved Search Functionality: the search functionality has been improved to allow for both free and pre-defined/facet search;
Partnering Tool: registered users are now able to search for both individuals and research organisations/businesses; moreover, all registered users, regardless of whether they are individuals, research organisations/businesses will be able to search for CVs;
Funding Offers: the revamped EURAXESS portal introduces a real funding database, where research funding agencies are invited to enter national research funding opportunities;
Hosting Offers: another novelty of the revamped portal is the hosting database, where research institutions are invited to enter their hosting offer;
Internship Offers: are also a novelty of the revamped portal;
Training Resources: the revamped EURAXESS portal introduces a collection of research related training resources that aim at improving the researchers career prospect;
Career Development Center Search Functionality: EURAXESS provides a free service that research institutions can make use of for researchers, with dedicated staff providing advice on career development opportunities; both registered and unregistered visitors can search for the nearest EURAXESS Career Development Center;
Subscription Functionality: visitors can subscribe to specific pages and be notified of content updates; subscription is limited to registered users only;
EURAXESS Service Centers Search Functionality: both registered and unregistered visitors can search for the nearest EURAXESS Center;
Upload CV functionality: at the revamped EURAXESS portal, aside from filling in the EURAXESS CV form, registered researchers can now upload an additional CV;
Upload Logo feature: if desired, the research organisations/universities/businesses can upload their logo on a specific offer;
Science4Refugees Buddy Programme: a collaboration tool designed to help refugee researchers stay up to date in their research field, by connecting with European researchers to discuss research problems, find solutions and study together;
Now that you have had an insight into the novelties & improvements and of the revamped EURAXESS portal, we warmly invite you to explore more at : https://euraxess.ec.europa.eu
Click and WELCOME!!!
Source: EXTRANET portal
    The involvement in the European EURAXESS Services network is a new opportunity for the Republic of Moldova but with a great impact for society with providing access to a complete range of information and support services for European and Moldovan scientists in advancing their careers, offering access to the job market and supporting scientific organizations in their search for outstanding research talents abroad. The first steps were made by the Center of International Projects, EURAXESS BHO within the EURAXESS TOP II project starting with October 2012, and the first initiative was to create, develop and maintaining the EURAXESS National Portal www.euraxess.md, for provide researchers with up-to-date information about jobs and funding opportunities in Europe. This portal was launched through biggest event that was held in Moldova ,,Researcher's Night'' on 27 September 2013.
The EURAXESS project offer the opportunity science society to implement of the Charter for Researchers & Code of Conduct for the Recruitment of Researchers (the Charter & Code)'s principles for R&D institutions, this initiative are therefore important for Moldova in terms of addressing the challenges relating to researcher recruitment and mobility at the national and European levels, for attaches to a healthy research climate in Europe and , planned remove legal and other barriers of the their application, create an enabling framework for the implementation of the HR Strategy for Researchers incorporating the Charter & Code by adjusting the national contexts to  international provisions. At this moment we have 5 research institutions who welcome this initiative to develop a European Researcher's C&C will make Moldavian research institutions even more attractive to the best researchers with the aim to contribute to the building of a European Research Area.
FIRST EURAXESS SOUTHERN SC official LAUNCH
EURAXESS TOP III has started